Welcome to MerryBrandybuck.com
*Online since May 2007*




UPDATES
________________________________________________
16/02/13
Welcome to our newest affiliate: Arwen-Undomiel.com!

27/12/12

10/12/12
Hello everyone! I've been very busy this year, but now I'm back! :)
The Hobbit Movie is coming and you will find a lot of pictures, screencaps and wallpapers very soon here!

THE HOBBIT OFFICIAL SITES:

The Hobbit Official Page
The Hobbit Blog
The Hobbit Italian Page


29/09/11
The site has won two lovely new awards: thanks a lot, Lady Rohan!

04/03/11
The AWARDS for Round 3 of Master of Buckland Awards are up! :)
You can check out the winners and/or pick-up your award/s here!

26/02/11
Welcome to our two last nominees for Round 3 of MOBA AWARDS: Harthad's Haven and The Legend Comes To Life ! The awards will be up asap! :)

11/02/11
Welcome to our new affiliate: Harthad's Haven!

06/02/11
It's been a VERY busy 2010, but... ESTELLA IS FINALLY BACK!!!!!!!!!

Welcome to our newest affiliate: Tolkien Library, a very interesting LOTR website!

I added three new nominees for the MOBA AWARDS: Fair Lady of Rohan, Tolkien Library and Lord of the Rings Fan! Round 3 is closed and the awards will be up within 10 days or so!

Two gorgeous new awards won from Unsung Heroes Awards! Thanks!!!

31/03/10
Two beautiful new awards won from Middle-earth: Much thanks to Frodofan!
A new Guess Who contest will open soon.


*** WIN MY AWARDS FOR YOUR OWN LOTR WEBSITE! ***
_______________________________________________________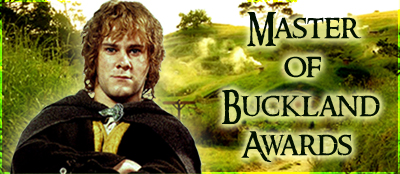 NOMINATED AT
________________________________________________




GOOGLE SEARCH
________________________________________________



THE FELLOWSHIP OF THE WEB
__________________________________________






DO YOU LIKE THIS SITE?
_____________________________